Why Buy & Sell When You Can Create? Achieve Your Goal With Home Additions in Boise, ID, & the Treasure Valley
In a market where home prices are rising, selling your home just to turn around and buy a larger one can be a losing proposition. Why not increase the space in the home you have? Building square footage into your current home allows you to increase the value when you do finally sell, as well as make your place more useful and attractive.
Homeowners in Boise, Idaho, and the Treasure Valley are turning to Clearwater Home Services for first-rate home additions to boost their home's curb appeal and functionality. Let us help you too!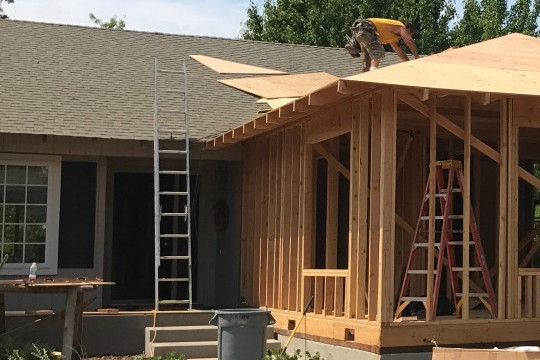 Our Team Offers Endless Home Addition Options
So, what does an addition look like for your home? Well, that's the beauty of home additions: every single one can be whatever you'd like that fits on the property you have. Clearwater Home Services can accommodate all of your desires to reimagine your space and transform your property.
Maybe you'd like to extend one end of your house toward the property line. You might want a sunroom to look out onto your backyard or an additional upstairs bedroom. The possibilities are endless, and we're here to help you narrow them down. Whatever style or desire, we are here to help—let's get you the home you want.
We Build Accessory Dwelling Units (ADUs)
An extremely popular home addition that many homeowners choose is the accessory dwelling unit (ADU), also known as the mother-in-law suite. These are buildings that are usually built on the backside of the property to help increase density, add extra living space, and give you more storage while maintaining the single-family aesthetic of your main home. We can build ADUs to match your main home's architecture, color scheme, and materials. These home additions include:
• Converted garages
• Detached ADUs, or "mother-in-law" suites
• Attached ADUs, where the home addition is part of the main structure
We'll help you determine which fits your property best during your consultation.
Our Process
Clearwater Home Services works closely with an architect for all of our home additions, so you can be sure you've partnered with a professional who understands your goals as well as the city requirements and approvals necessary for home additions. Additionally, our team will handle everything needed to complete the project successfully, from plans and permitting to construction. We are committed to educating and informing our clients about the process every step of the way, and we'll make sure that you're 100% satisfied with your home addition following completion.
A Home Addition Contractor You Can Trust
You don't have to keep looking for local contractors for home additions. Clearwater Home Services can get you on the road to a bigger, more beautiful home today. We're the trusted contractor serving Boise, ID, and the Treasure Valley area with gorgeous home additions that can make your space more enjoyable. Contact our team to schedule your consultation and plan your home addition project today.
Contact Us